Image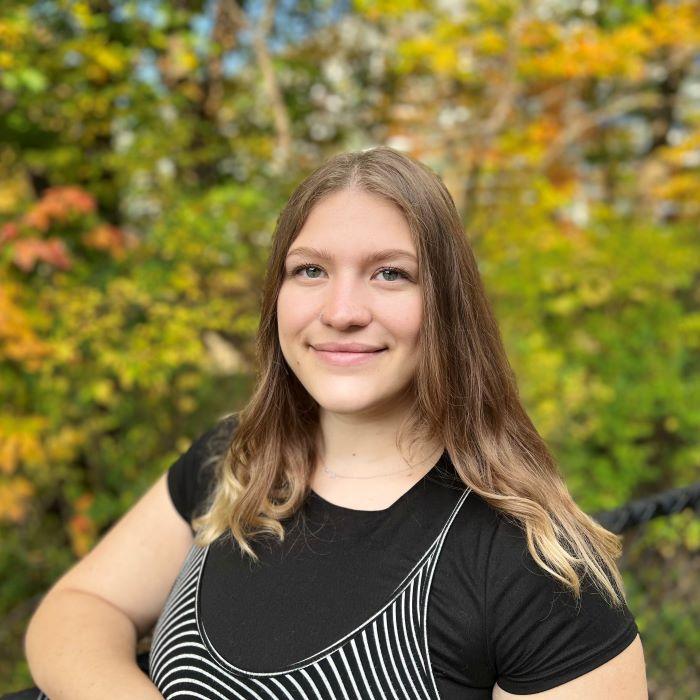 Haley Madej has vivid memories of her first day of classes at Onondaga Community College. It was the fall of 2022, a full 4 years after she had graduated from Amsterdam High School which is a couple of hours east of Syracuse. "I had an 8 a.m. class. I got here at 7 o'clock. I was very nervous. My first class was ASL (American Sign Language). The professor (Rebecca Dadey) and the students in the class were extremely inviting. We sat in a U-shape rather than everyone facing forward. After that I had English. My first day was perfect. It gave me the confidence to come back the next day. I knew I could do it. I could breathe a little bit."
After graduating from high school, Madej (pronounced muh-DAY) had attended cosmetology school and obtained a job in the industry. She worked her way up to a management position which gave her the opportunity to communicate with colleagues at various levels. "I realized there was a disconnect and felt if I had a career in Human Resources I could help change it. I want to work with a community, a team. And I don't mind paperwork. I love organization."
Those organization skills were handed down from her mother who managed a bank for 20 years. "When I was younger I would go to her job and hang out. I loved how everyone went to her for stuff and she had answers. She always had all of her ducks in a row. I admired her organization and skill set in an office."
With strong organizational skills and dreams of a career in Human Resources, Madej came to OCC. She was a middle-of-the-pack student in high school, but was determined to excel at the next level. "I loved high school for the social aspect but didn't take it seriously. When I got into college I realized this would further me in life. I wanted to put my all into this."
Throughout her first semester, she continued to be 20 to 30 minutes early for every class and worked hard. And when her grades arrived in January she had been named to the President's List and invited to join the Phi Theta Kappa Honor Society. "It was amazing! I felt like I really accomplished something for myself."
One of her first semester classes in which she exceeded her expectations was Quantitative Reasoning taught by Professor Jessica Harnly. Madej had always struggled with math, but she said Professor Harnly changed that. She had the entire class sign a contract pledging to always be willing to help another student who was struggling, and inspired them with a motivation quote about the power of 'yet.' "Just because I don't understand statistics 'yet' doesn't mean I won't in the future. By the second week of class I made great friends and math was my favorite subject. We would work through every problem every day in class until everyone understood it."
Professor Harnly also wrote a recommendation letter for Madej to become a member of Student Government, and this semester she is serving as its Vice President of Recruitment & Retention. "It's been amazing! I've been organizing events and talking to students and staff members. I've really enjoyed it. I thought this would be the closest thing I could get to human resources work while a student here."
Madej has some major milestones on the not-too-distant horizon. In December she will become a mother, and next May she will complete her Humanities & Social Sciences degree. She plans to pursue a Human Resources position and take her time finding the right fit. "I want to meet a group of people, connect with them in a company, and stay and grow from there."