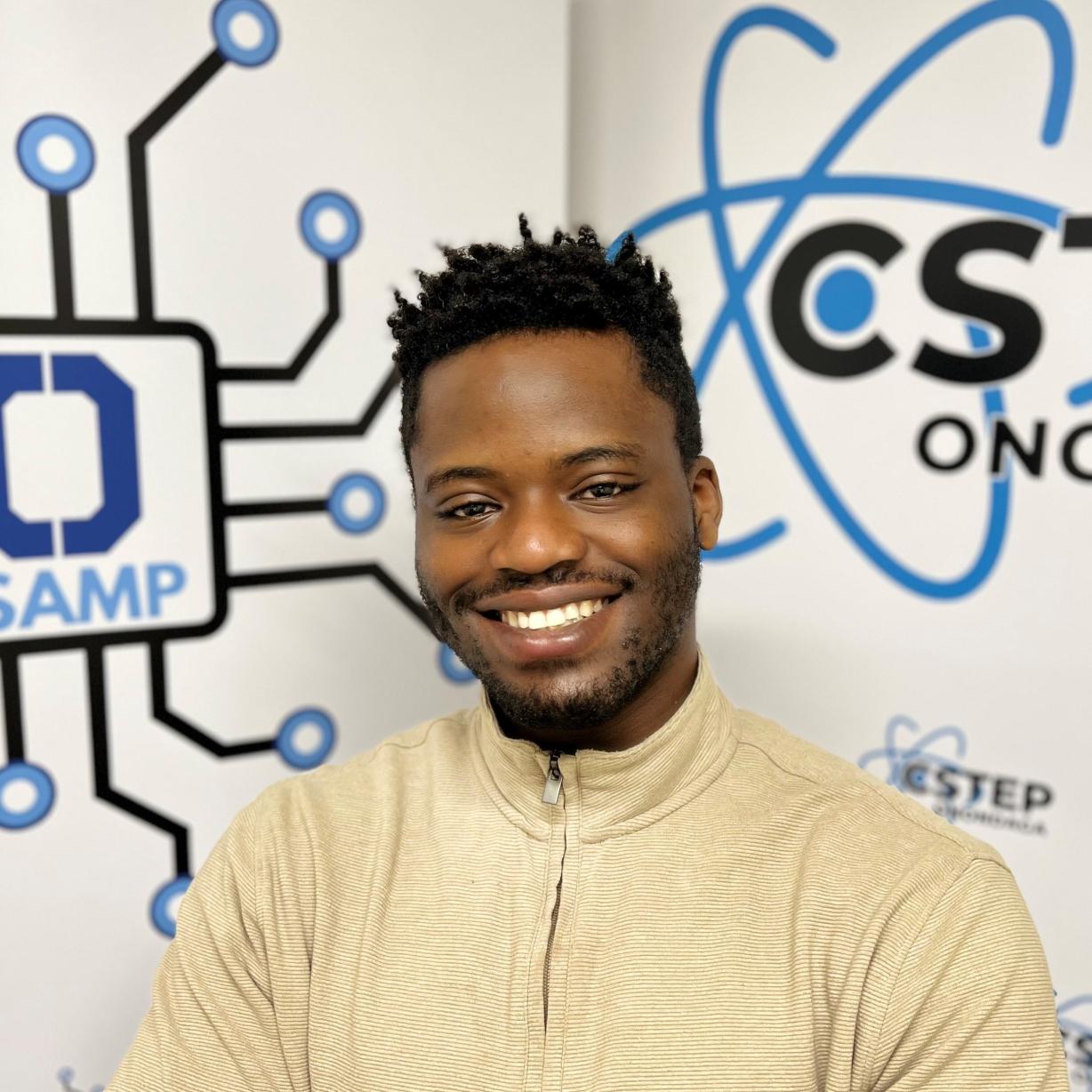 A four year tour of duty working as an aircraft mechanic in the United States Air Force changed the course of Ikechukwu Unobagha's life. "In high school I didn't really have to study or try hard to do well. When I went to college, I didn't realize how different it was going to be. The military gave me the discipline and the study skills I needed."
Unobagha, who is the son of immigrants from Nigeria, graduated from Fayetteville-Manlius High School in 2015. He tried college at a four-year school, then came to OCC, and ultimately decided to go into the military.
When he returned to OCC in the fall of 2021, Unobagha was prepared to work hard and be successful. He enrolled in the Mathematics & Science degree program and found several places on campus where he could go for assistance. The Office of Veterans and Military Services was his go-to place for advising. He was a member of the Extraordinary Men of Distinction, and a regular on the second floor of Coulter Hall where the Collegiate Science Technology Entry Program (CSTEP) and Louis Stokes Alliance for Minority Participation (LSAMP) program are located. "CSTEP and LSAMP have been extraordinary, especially with helping me with what's next after OCC. They are giving me all of the steps to follow so I can land where I want to land."
Part of preparing for what's next was a Science Undergraduate Research Experience program Unobagha participated in during the break between the fall and spring semester. He studied with Syracuse University's Climate Hazard and Research Team, which focused on how the construction of levees hurts socio-economically weaker areas and how it can be prevented. "The levees were built on the dollar cost average of the property and disadvantaged much lower income areas. We have to designate these areas using data from the United States Geological survey and NASA satellites, and classify these areas so we can see how they are impacted over time. The experience was incredibly valuable."
Unobagha will complete his degree in May. He plans to transfer to a four-year school and continue working toward his goal of becoming a computer engineer. He'll always be thankful for the support he received at OCC. "It's an amazing campus with passionate instructors. There are a lot of avenues where people can receive the help they need. If you put in your best effort and seek help, there are people who will help you every step of the way."