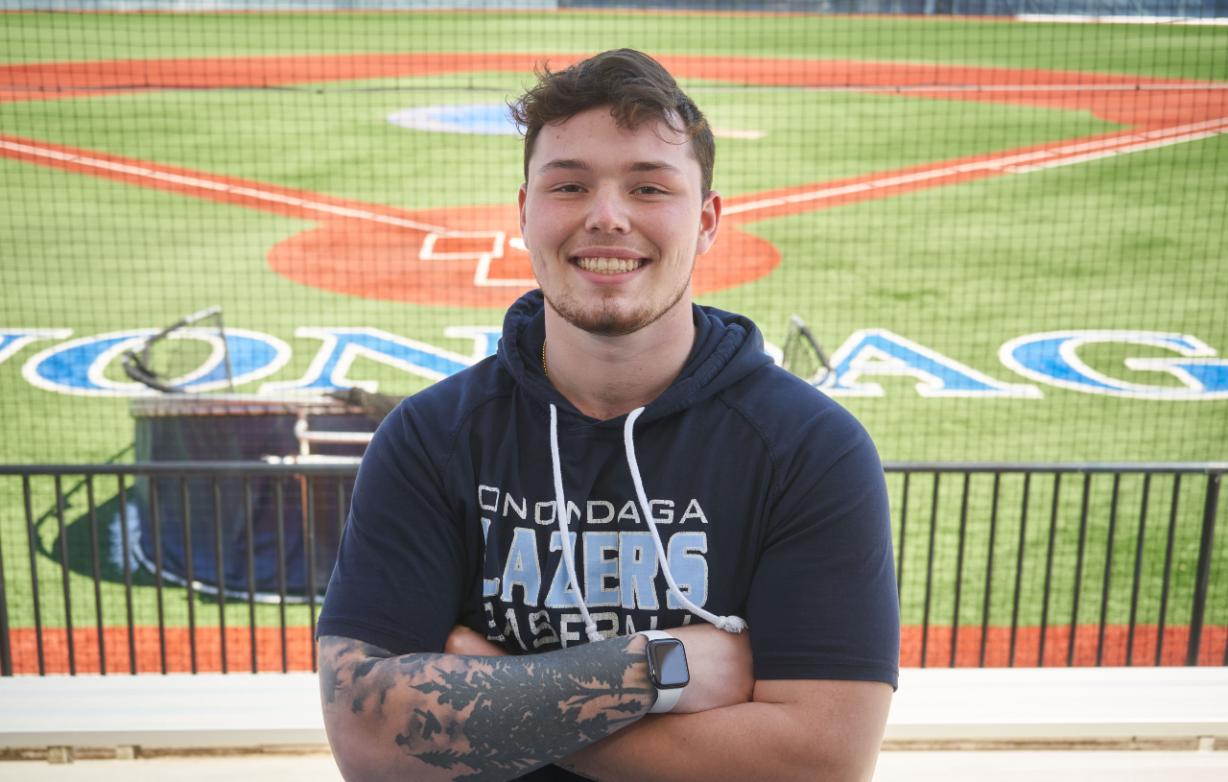 Baseball introduced Jake Humes to Onondaga Community College. Spending time on campus sold him on beginning his college education at OCC. During 9th and 10th grades at Batavia High School he traveled to the OCC campus twice for baseball clinics. On his second visit, he started thinking seriously about becoming a Lazer. "They showed me buildings, athletic weight rooms, and I was like 'wow this is a nice place to go.' It was just two hours from home which was a good distance. Everything worked out."
During his senior year of high school Humes earned 25 college credits and maintained a perfect 4.0 grade point average. His strong performance in the classroom earned him an invitation to OCC's Lillian Slutzker Honors College which provides high-achieving students with a tuition-free and highly stimulating academic experience. The Honors College was created thanks to a generous donation from the Lillian Slutzker Foundation in 2018.
This fall, for the first time since his junior year of high school, Humes is playing baseball as a member of a school team. He's spending the first two months of the semester as a pitcher, outfielder, and first baseman practicing with the OCC Lazers. "It feels great to be playing every day again. I had been training with my hitting coach in Rochester and taking baseball very seriously even when we weren't playing as a team."
Besides being a baseball player and a member of the Lillian Slutzker Honors College, Humes is also part of the College's chapter of the Phi Theta Kappa honor society which has been ranked in the top ten internationally in each of the last three years. "It's such a great organization. I'm blown away by the great things they do and how they help OCC students get scholarships when they transfer." He also serves the campus community as a Student Ambassador, giving tours to prospective students and their families. What are his favorite places on campus to show off? "If I'm showing athletes around, it's the SRC Arena, the gym, the weight room, and everything else. Otherwise it's the Business classroom (Whitney Commons) in Whitney. It's super modern and everyone loves seeing it."
Humes will complete work toward his Humanities & Social Sciences degree next May, then decide if he wants to continue on to a four-year college and continue his baseball career or begin an apprenticeship as he works to become an electrician. "My grandpa was an electrician. He told me about being an electrician and it really appealed to me because I'm more of a hands-on person. And if being an Electrician doesn't work out, I'll already have a college degree to fall back on."