on
Succeeding @ OCC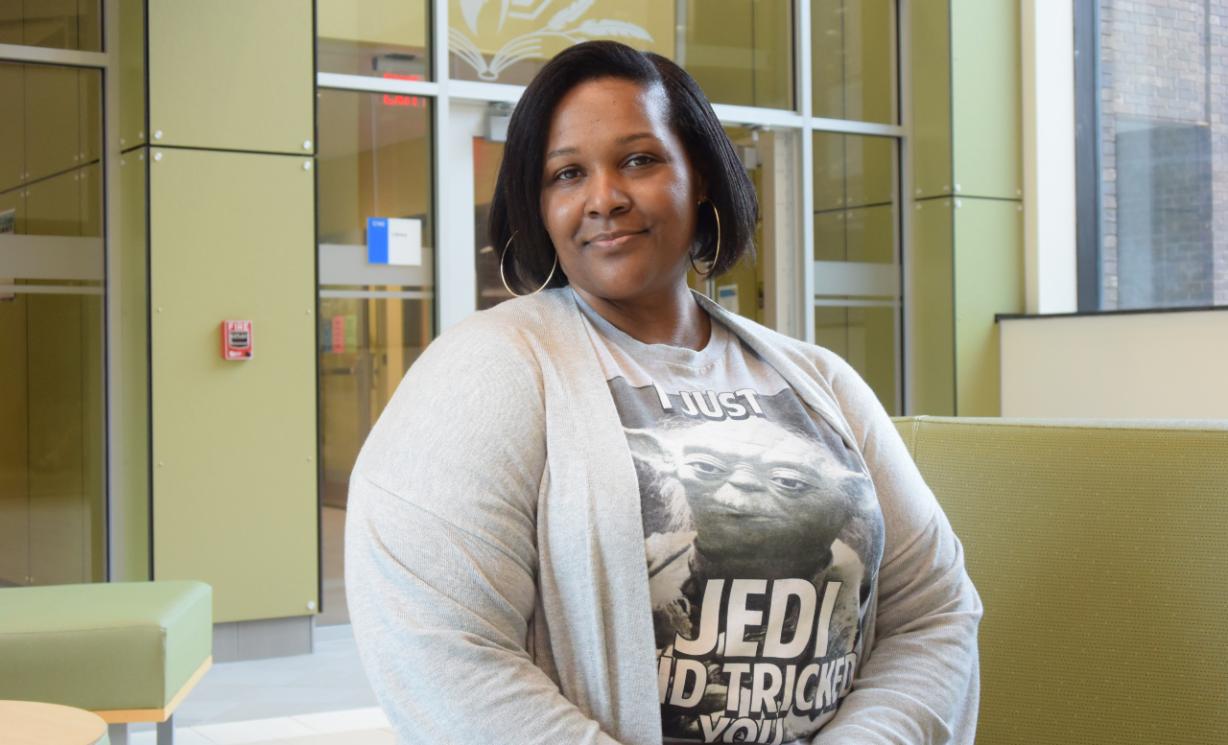 Jennifer Holder has spent much of her adult life trying different career options while balancing the demands that come with raising a family. She's finally found everything she's looking for at Onondaga Community College. "I love it here. There's a lot of support for students. Teachers and instructors are very open to understanding you're not a traditional student and they will help you any way they can."
Today everything is in focus for the 46-year-old mother of four. She's in the Mathematics & Science degree program and working toward a career in the nutritional sciences. Her journey to this point was a long one.
Holder came to Central New York from Harlem in 1996 when she started taking classes at SUNY-ESF. She thought she wanted to be a Biology teacher until she began working as a substitute teacher prior to graduating. That's when she knew being a teacher wasn't for her.
She worked as a Nursing Assistant in a nursing home for several years and was taking classes to become a nurse. But when Covid hit she realized she didn't want to be a nurse.
A challenge related to a her rheumatoid arthritis set her on her new career path. When someone suggested to her she "eat clean" for 30 days, she did so and saw a dramatic change in her condition. "The pain I had from arthritis slowly disappeared. The more I read about nutrition the more it became a passion for me. When I decided not to finish nursing, I decided this is where my mind and heart were."
In the fall of 2020 she became a full-time student in the Mathematics and Science degree program. When she needed assistance, she leaned heavily on OCC's Collegiate Science and Technology Entry Program (CSTEP) and the Louis Stokes Alliance for Minority Participation (LSAMP) program. "Those two groups are so supportive. When I have an issue, I don't feel like I'm by myself. I don't feel alone. I have resources and people ready and willing to help me."
Holder recently learned she was selected to participate in a paid summer research program at Syracuse University through LSAMP. "I've been matched with a professor who is studying the use of Omega 3's in maternal parents. It's in the nutritional sciences. I'm so happy to get matched up in an area I'm focused on."
When Holder returns for the fall semester she will do so along with her youngest daughter who will be a freshman. Mom plans to receive her degree a year from now. "I'm extremely happy about where I am. Having children and trying to go to school years ago when they were younger wasn't the easiest thing to so. As an older student I was a little hesitant to start over. OCC turned out to be a great place to do that. The support you need is here. You are not alone."