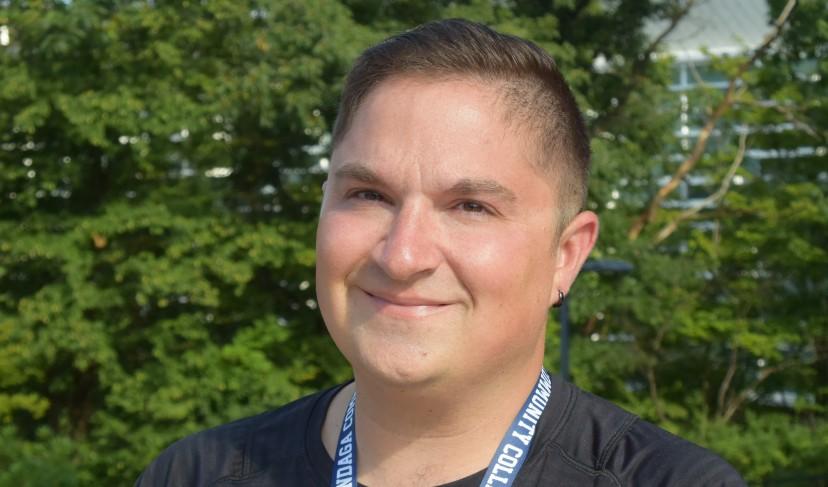 Joe Logiudice wants anyone considering college later in life to know they can do it, and Onondaga Community College is the place to do it. "It's not too late. It's never too late. No matter what obstacles you think may be in the way, there's always a way. Everyone I've experienced here has been nothing but supportive and welcoming."
Logiudice graduated from East Syracuse Minoa High School in 2007 and started taking classes at OCC that fall. "It was the whole 'that's what you're supposed to do thing.'" He stayed for a while, attended classes occasionally, and ultimately decided college wasn't for him. He would spend a decade in the banking industry before health issues forced him to stop working in 2018.
While recovering physically he began seeing a therapist. Working on his mental health changed the course of his life. "Once I got into therapy I started to learn different tools and different methods of dealing with life. I thought 'this is amazing. This is what I want to do.'"
With a newly found purpose Logiudice decided to return to OCC. He took two classes in the summer of 2020, and returned to being a full-time student that fall. "It was a struggle at first but once I got my first 4.0 and then my second 4.0 and saw the results, I was more empowered to say 'I don't care what I have to do or what obstacles are in my way. I am doing this!'"
While excelling as a student he also became very involved in campus life. Logiudice became president of the Psychology Club. This semester he is a member of Student Government, serving as Vice President of Media. "I have a personal investment in the school, not only my success as a student but the school as a whole. Having those connections and relationships has made all the difference in the world."
In December Logiudice will complete work toward his Humanities degree with a specialization in Psychology. He hopes to transfer to SUNY Empire and pursue a bachelor's in Psychology. He says he'll continue to tell others about the power of therapy and the difference it made in his life. "I'm a big mental health advocate and think it should be talked about more. I did a 180 when I started my journey in therapy. I want to be able to share that with people."