Image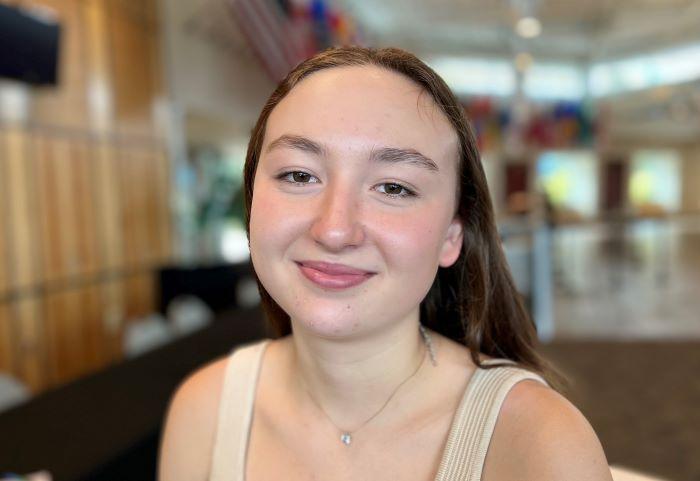 Katya Rohova has vivid memories of Russia invading Ukraine in February of 2022. She was living in her native Ukraine in the capital city of Kyiv when the war started. "I remember waking up because of explosions and my parents telling us we had to pack our stuff. We sat at home for two days before deciding what to do." Katya, her two sisters, her mother, and a 6 month old baby would flee to the bordering country of Slovakia.
From the moment the war started, another Ukranian who is best friends with Katya's father and lives in Central New York, reached out and offered to serve as a host family for anyone who wanted to come to the United States. Six months after arriving in Slovakia, Katya and her 19 year old sister Liza immigrated to the U.S. and moved in with their host family.
Katya entered Jamesville-Dewitt High School as an 11th grade student. She was a new country, a new school, and learning a new language simultaneously. "My first year in high school was very hard because I didn't know English. I had to translate words as I was doing my homework. It took a long time."
After a year of high school, she decided to come to Onondaga Community College as part of the Early OCC program. It gives high school students over the age of 16 in partner school districts the opportunity to take college courses on campus during their regular school day. Students receive a tuition waiver and are only required to pay for their books and associated course fees.
Katya and her sister Liza are both students at OCC. Liza is 19 years old and in the Nursing program. Katya chose the Business Administration major because, "I like to organize things and communicate with people."
She communicates with her parents every day while taking 18 credits here, and she is also still taking high school classes in Ukraine online. "My friends there are either studying remotely or coming to school, hearing sirens, and going to the basement almost every day. I'm so grateful to be here. It's a great opportunity."