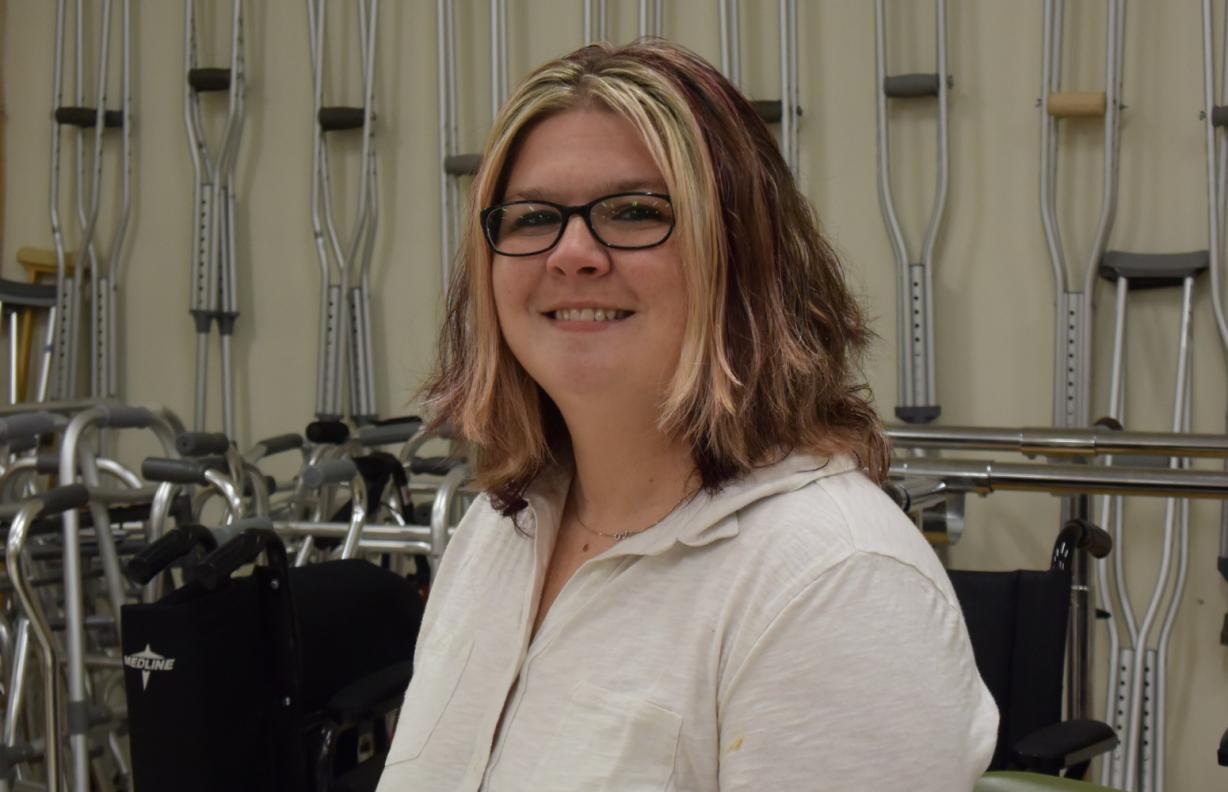 If you're thinking about changing careers and coming to college later in life, Kay Moses has two simple words of advice: "Do it!"
Moses is a 43-year-old mother of five who spent most of her working years in retail before an unfortunate accident got her thinking about her present career path. Eight years ago her father slipped on ice, fell awkwardly, and broke two vertebrae in his neck. He went from being a 24-hour-a-day 7-day-a-week big, strong farmer to someone who couldn't walk. Worse yet, doctors told him and his family he wouldn't walk again. But the physical therapists who worked with him tirelessly at a series of hospitals and nursing homes believed in the impossible. "Their persistence inspired me and it inspired my father too. That's when I decided I wanted to be a physical therapist. Once we got my father settled and the timing was right with my kids, I came back to school."
She enrolled at OCC, took classes part time for two years, and worked on prerequisites for the Physical Therapist Assistant (PTA) degree program. In 2020 she was accepted into PTA and became a full-time student in the fall semester. As she juggled the demands of her life she worked hard to keep her priorities in order. "The kids are number one. I make sure there's time for them. School is right there at number two. And I'm blessed the place where I'm working right now is great about working around my schedule. It's all about finding the right pieces, putting them in the right spots, and setting myself up for success."
Her success within the PTA degree program is a tribute to both her hard work and a strong sense of camaraderie amongst fellow students. "We're a really good group. We work as a team. If you need something you can ask a classmate and we will all help each other."
Earlier this semester she completed her second of two part-time clinicals. Her first was at a nursing home. Her second was at St. Joseph's Hospital. She's on track to earn her degree next May, complete her two full-time clinicals by the end of August, and take the national certification exam in October 2022.
Best of all, her father is walking again with the help of a walker. He's not back to where he was before the accident, but he's further along than doctors ever thought he would be. And he's aware of the impact his difficulties had on his daughter's career choice. "Both parents are proud of the fact I am going back to school. He is especially proud that I am going into a field that will help others similar to how he was helped after his accident."