on
Succeeding @ OCC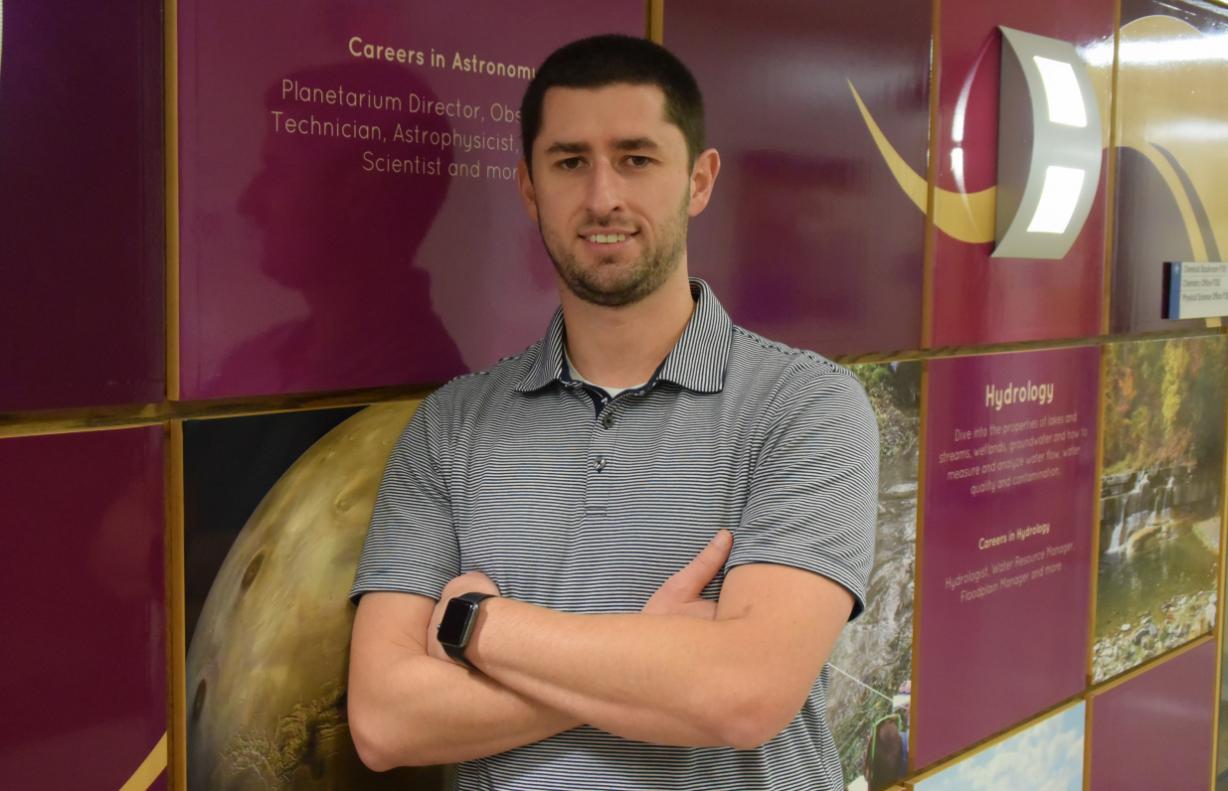 Nick Berlo learned valuable life lessons during his 6 years in the United States Air Force. Now he's focused on building a strong academic foundation for himself at Onondaga Community College as he pursues a career in the auto racing industry.
Berlo grew up in Destin, Florida. He coasted through high school without working hard. When he got to college, everything caught up with him. "I didn't apply myself in high school and wasn't in a college mindset when I got there. I didn't know the value of hard work. The Air Force changed all of that. I have definitely grown since then."
He spent six years in the Air Force working as a weather forecaster. During his last four years he was stationed at Fort Drum and would go on deployments with members of the United States Army, predicting the weather wherever they were located. He completed active duty in the spring of 2019, continued with the Air Force as a reservist, and began planning his future. He wanted to become an engineer and that meant improving math skills he had learned in high school 12 years earlier. He spent his summer taking math classes online so he could begin to catch up.
In the fall of 2019 Berlo enrolled at OCC. He's worked hard and made himself an excellent student as evidenced by his 3.9 grade point average in the Engineering Science degree program. Math from his high school years continues to be his biggest challenge. "I still fumble over algebra. I'm in Calculus III right now. I understand the calculus but sometimes the algebra gets me."
When Berlo is on campus the Office of Veterans' Affairs on the second floor of Coulter Hall is his home base. Steve White, who runs the office, is Berlo's "go-to" person. "Steve is perfect for that job. He's willing to bend over backwards for me every day of the week to make sure I have what I need."
Berlo plans to transfer to the University of North Carolina at Charlotte and pursue a bachelor's degree in Mechanical Engineering with a concentration in Motorsports Engineering. He's a huge fan of auto racing, particularly NASCAR which is based in Charlotte. Because UNC-Charlotte has the only Engineering program in the area, auto racing teams provide their students with internship opportunities. Berlo is hoping to land one of those precious spots and turn it into a career. As he heads south he's sure to remember what he accomplished here. "I love OCC. It's given me all of the tools I've needed to learn."