Image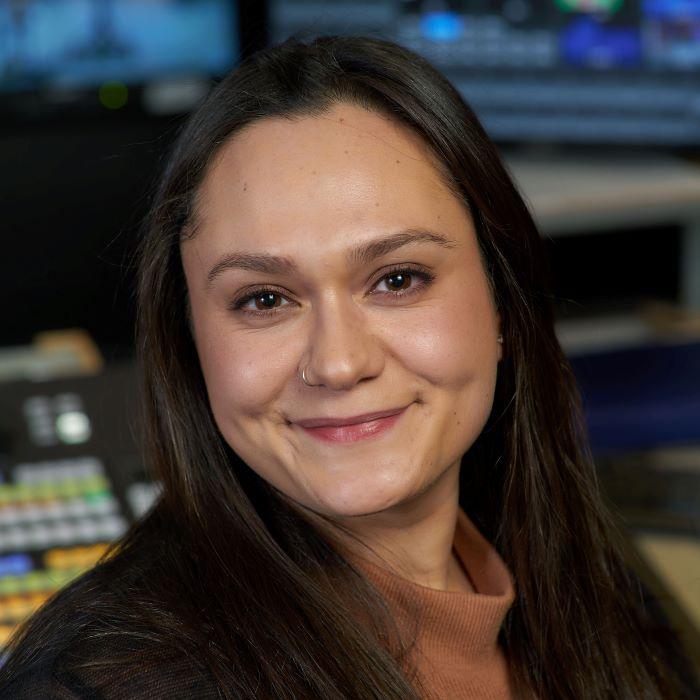 Olivia Ramirez found out about Onondaga Community College's Broadcast Media Communications degree program by chance, and she's glad she did. She was working at a local financial firm, Pinnacle Investments, when a video crew from 325 Productions came into the office to shoot promotional videos. "I was watching them set up with their lights and their cameras. During my lunch break I took one of their guys aside and said 'this looks what I want to do.' I asked where he went to school and he said, 'OCC... they have an amazing broadcast program!' That literally was my jump start. I walked away from that conversation smiling."
325 Productions was started by James Domroe, a 2002 graduate of OCC. A large percentage of his workforce is made up of former OCC students and graduates. The person who told Ramirez about OCC's program was Jimi Deline, a 2016 graduate.
Ramirez grew up in a single-parent home in the nearby Westhill School District. When she received her diploma in 2013, Onondaga Community College was her best option.
In two years she earned a General Studies degree while taking as many Art classes as she could. "Regular educational things didn't come to me easily, but I was an artistic person and I loved art. I waited all day for my Art classes and always wondered what I could do that would be artistic and I could make a living at."
She began working at Pinnacle Investments as a receptionist, and worked her way up to Operations Specialist. "I love working there. They are all like family. But having a desk job helped me realize I needed to go back to school and do something I was passionate about."
In the spring of 2022, she returned to OCC and enrolled in the Broadcast Media Communications degree program. "It is an amazing program. My first two semesters, I was so excited to come to school every day. I love learning and working hands-on. Being able to be in a studio, I was so excited. Now in my capstone semester it's all kind of coming together. It's definitely hard. This capstone semester is pushing my limits and making my other semesters look easy."
Ramirez appreciates how tight-knit the entire BMC program is. "The professors push us and want the best for all of us. And all of the students are so helpful. If we see someone struggling, we all help each other. We are a team. The professors really push a team environment."
In a couple of weeks Ramirez will earn her second OCC degree. She's hoping to go into the workforce and grow with her experience. As for the video 325 Productions shot at Pinnacle Investments, she is actually in it and says it plays often on cable TV. "Every time I see it it's a reminder that the commercial shooting is what brought me to OCC's program."