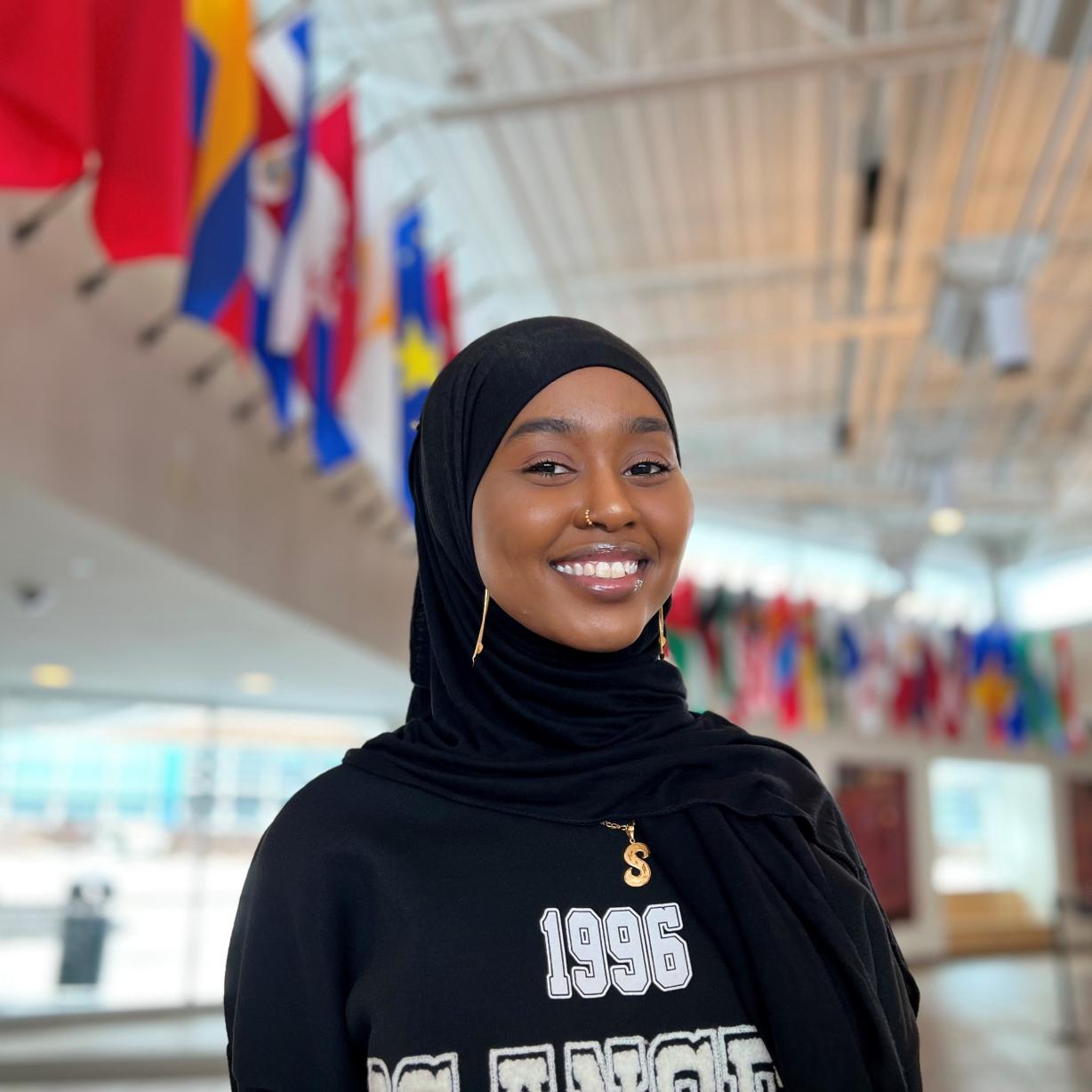 When Sabirin Hassan came to the United States from Somalia five years ago the only English she knew was "how are you?" She expanded her vocabulary by watching movies with the subtitles on and reading children's books. "I worked really hard to learn English," she said.
Hassan graduated from Henninger High School in 2021 and came to Onondaga Community College that summer as part of the Educational Opportunity Program's  (EOP) Pre-Freshman Institute. It gave her the chance to earn 6 credits and adjust to college life. The experience also cemented EOP as her earliest home on campus. "EOP helped me with everything from financial aid, to class schedules, and now with transferring."
It was also in the office where EOP Student Navigator Shannon Nolan noticed Hassan had an interest in a leadership role on campus and recommended she pursue a position with Student Government. Hassan took her advice and became the Vice President for Humanities and the Arts. "Everybody here (in the Student Government office) is just awesome. I feel so good talking with everyone here. I learn new things every day."
Her position in Student Government got her a last minute invite to President Joe Biden's appearance on campus last semester. Hassan made the most of the opportunity and snapped a selfie with the President which she posted on social media. "I was so excited! So many people told my mother they saw my picture."
Just as she's a leader on campus with her role in Student Government, Hassan is also a leader at home where she has five brothers and two younger sisters. "I'm the second mother in the house. When I'm home I do cooking and cleaning and homework with my sisters. I want to be a role model for all of them."
 A role model is exactly what she will be next month with she receives her Humanities & Social Sciences degree, becoming the first of the 8 children to graduate from college. She plans to transfer to a four-year school in the fall and major in Psychology. "I want to help the community and help people the way people helped us when we came here. I want to help people from different countries."