Image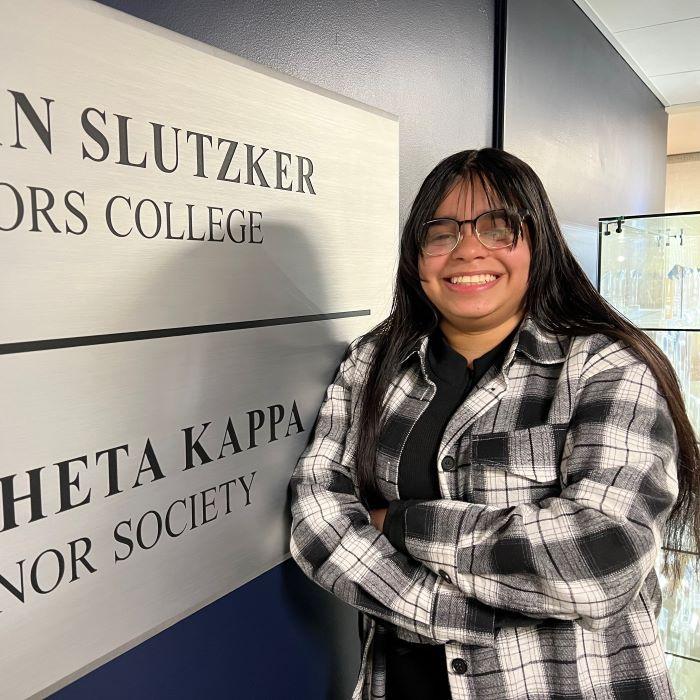 A faith-based quote Saray Quevedo's mother shared with her at a young age provides her the daily inspiration to be the best she can be. "'If God is with me, who's against me?'  That quote has brought me through everything in my entire life. It's why I have succeeded."
Quevedo is the youngest of four children and a first-generation college student who came to Onondaga Community College after graduating from Syracuse's PSLA at Fowler High School in 2021. "When I arrived here two years ago I was a shy, introverted student. I knew to succeed, I needed to conquer my fears. It made my character and spirit even stronger. The Saray who started here two years ago and the Saray who is here now are completely different."
The person she credits most for her transformation is Pete Patnode, a Professor in the Criminal Justice degree program which she is enrolled in. "The bond I have with him is irreplaceable. His door has always been open, he's helped me with my challenges, and celebrated my achievements. I don't only see him as an amazing teacher, but also as an angel who God sent to guide me. I'm so grateful and appreciative of him for helping and strengthening me every day.
During her time on campus Quevedo has earned membership in the Phi Theta Kappa Honor Society, she's been a Meg O'Connell Social Justice Scholar, a member of the Campus Safety Advisory Committee, participated in the Collegiate Science and Technology Entry Program and Federal TRIO Program, received the New York State Sheriff's Association Scholarship, and was just awarded the New York State Organization of Bursars and Administrators John G. Karrer Scholarship for the central region. She's done it all while compiling a 3.9 grade point average. "My mindset is to always pursue excellence. Being a Hispanic woman I have to represent my heritage. I've always told myself 'wherever you go, leave history behind.' I want people to know Saray was here."
In December she will complete her Criminal Justice degree and transfer to Syracuse University where she will major in Political Science. She plans to enter SU's Law School in two years on the way to becoming a federal prosecutor so she can "stand up for victims." As she continues her journey, her Pentecostal faith will be at the center of her life. "My mom always told me 'the doors God opens, no one can close them. As long as you believe in God you have everything.' He has given me the strength to get up each morning. I can do anything if God is helping me."