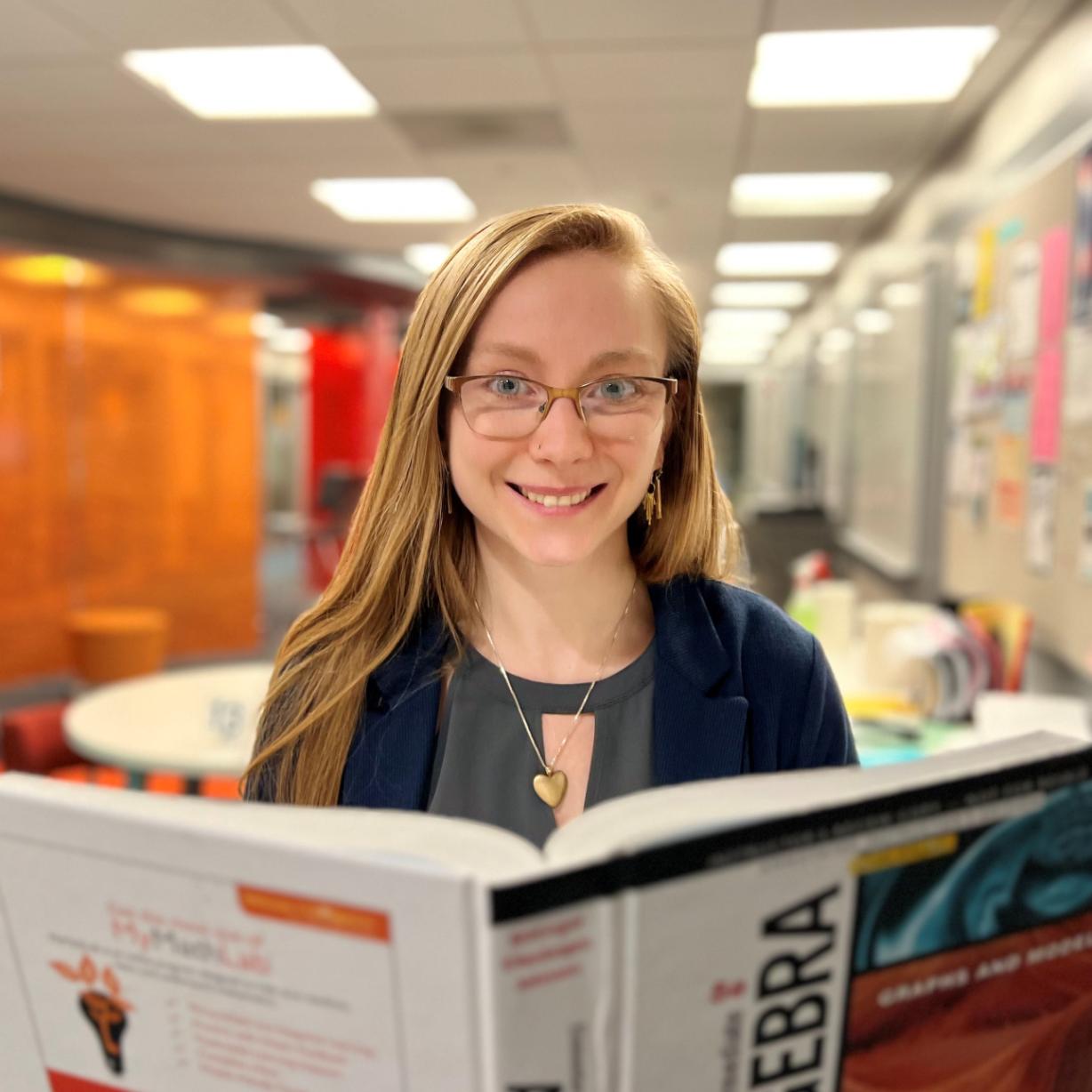 Siobhan (pronounced shi-VON) Young's success is all the more remarkable when you consider what it's taken her to get to this point. Today she is a high-achieving student who is a semester away from earning her Business Administration degree, a member of the Phi Theta Kappa Honor Society, a math tutor, and an officer in Onondaga Community College's Student Government.
But before arriving here she lived through a decade of heartache and turmoil. Ten years ago when she was in high school in Durham, New Hampshire, her older sister passed away unexpectedly. That traumatic event led to a lengthy battle with mental health. "My journey has had so many ups and downs. The things that really made a difference for me were my family, my support system, and my mental health professionals. It's an ongoing struggle and it's getting better."
After getting through her final years of high school, Young attended nearby Great Bay Community College and took a class or two at a time while also working full time and continuing to focus on her mental health. She had a variety of work experiences, including earning her Commercial Drivers License and becoming a bus driver, and working with the AmeriCorps program at an outpatient recovery facility. "My big project in the office was getting information on all of the sober living facilities around New Hampshire and bordering states and consolidating all of that information into one data base which was not available previously. I was proud of having done that."
Her AmeriCorps experience also included fundraising, something she was surprised to learn she liked. "I wouldn't think I would enjoy asking people for money but it's different when it's about something I really care about. I enjoyed it and found it was a job I could actually go into."
When Young and her husband decided to move to Central New York to be closer to his family, she eventually decided to try Onondaga Community College, enrolling in the spring of 2022. Her positive experience with fundraising led her to select the Business Administration degree program. And when she chose to join the Business Club as part of an extra credit opportunity, it opened up a whole new world to her. She became an officer, collaborated with the YMCA on an Earth Day cleanup, started volunteering at the Rosamond Gifford Zoo at Burnet Park, and eventually connected with Shawn Edie who oversees Student Government and convinced her to run for office. "When I went to college in New Hampshire I didn't get super involved in things. I planned to do the same thing here, but that first position with the Business Club really opened doors for me."
Experiencing success in the classroom has also had a big impact on her. In the fall she was sworn-in to the Phi Theta Kappa Honor Society. She also started working as an imbedded tutor, helping fellow students with Intermediate Algebra. "I've so enjoyed learning again. Being here has renewed my love of learning. I hadn't felt that way since middle school. It's been such a positive and powerful experience."
Young will earn her degree in May. Her goal is to earn bachelor's and master's degree in Accounting. Wherever she goes from here, the memory of her older sister will be with her. "A lot of my driving force to do things that better my life and promote personal growth is from my sister. She lived an incredible life, she was a bright student, she really believed in education and how powerful it can be. She loved learning. The locket I wear has her ashes in it. It's a very helpful thing to me. I consider myself a spiritual person. I believe she's still with me."