on
Succeeding @ OCC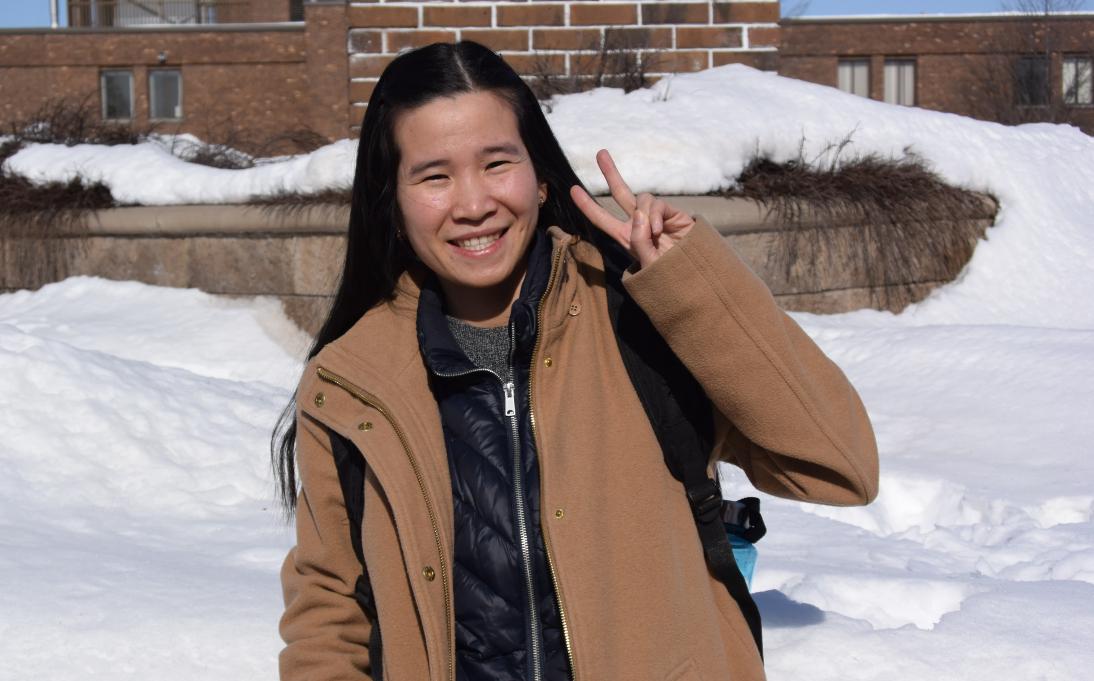 T Nguyen has traveled halfway around the world to earn the first of what she hopes will be three college degrees. She'll complete the first leg of her journey in May when she receives her Mathematics & Science degree from Onondaga Community College. "I feel lucky to be here. So many people here at OCC have helped me with so many things."
T's birth name is Thi Bich Truyen Nguyen. Her professors and fellow students all know her as "T." She was born and raised in Vietnam and dreamed she would one day be able to see snow. "Vietnam is tropical. We don't have winters like this. Before I came here I always wished I could have a snowflake on my hand. Our first winter here was wonderful. I could build a snowman with my husband. It was so fun!"
Nguyen arrived in the United States two-and-a-half years ago and began taking classes at OCC in 2019. "My first year I was like a fish out of water. I was shell shocked. Everything was new." She was taking classes and working two jobs. When she became pregnant, her husband put his pursuit of a degree in acupuncture on hold and went to work as a Centro Bus Driver.
As they became the proud parents of a baby boy, Nguyen kept up with her coursework. When their son was old enough, she brought him to campus and dropped him off at the Children's Learning Center while she attended class. Despite her life challenges, her grade point average kept improving each semester from a 3.7, to a 3.9, to a perfect 4.0 in the fall. Her outstanding grades earned her membership in the College's chapter of international honor society Phi Theta Kappa.
Nguyen loves to share her knowledge with fellow students. She's worked as a volunteer tutor in Math, Chemistry, and Physics Lab. She's willing to help others because of the way the entire campus community has surrounded her with support. She speaks glowingly about her experiences with the Collegiate Science and Technology Program (CSTEP), Financial Aid, and the Children's Learning Center. She's also grateful to Professors Lara Chappell, Patty Zabel, Cynthia Hennessy, and Thomas Larochelle for their continuing support and assistance. "Everyone has been so good to me. I am very grateful for everything everyone has done to help me."
Nguyen's dream is to become a math teacher. She's been offered a scholarship from Le Moyne College and plans to attend there in the fall.