Image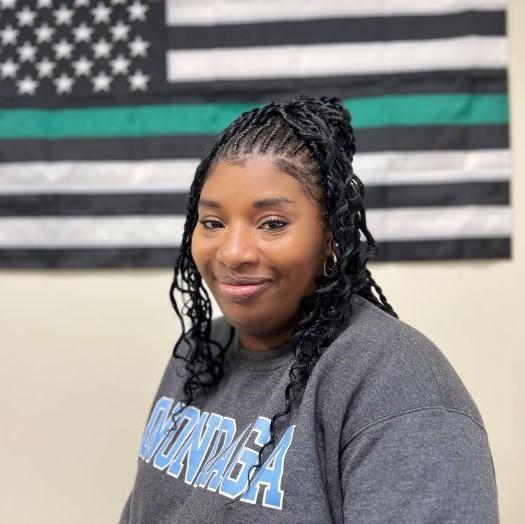 March 1, 2022 turned out to be a life-changing day for Yolanda Hosea. She was going door-to-door delivering packages to homes for a national shipping company when a large amount of snow and ice fell on her head, knocking her out of work temporarily. "I had time to reflect on what I wanted to do. I enjoyed what I was doing because of the money, but it took me away for too much time from the three most important people in my life. So I made the decision to go back to school."
Hosea had graduated from Henninger High School in 2004 and enlisted in the United States Navy the following year. She served for four years before being honorably discharged and returning to the Syracuse area. Between the end of her military service and her arrival at Onondaga Community College she became a mother to two girls and a boy.
When she arrived on the OCC campus in the fall of 2022 she was welcomed by a strong support system on the second floor of Coulter Hall. Hosea received valuable advice from Steve White who runs the college's nationally acclaimed Office of Veterans and Military Services. "He advised me to not take on to much, take 12 credits, and put my best foot forward so I could paint the best possible picture of myself when I transferred to a four-year school." She took his advice, had a great first semester, and earned membership in the Phi Theta Kappa Honor Society.
About half way through the spring semester, three people in her life passed away. Her support system in the office of the Collegiate Science and Technology Entry Program was there for her, especially Student Navigator Leslie Reid.  "I couldn't focus. It felt like I had way too much going on. Leslie emailed my teachers and checked in with me constantly to make sure I was okay... not so much about school, but about me."
While juggling parenthood and being a full-time college student, Hosea also works part time with Onondaga County's Department of Children and Family Services. She's in OCC's Human Services degree program and her goal is a career in social work. Her key to success is being organized. "I have a planner I sit down with once a week, look at what assignments are due, what extracurricular activities I need to attend for my daughter who plays three sports, and any appointments I need to keep track of."
Hosea plans to complete her degree by December 2024. She's proud of the example she's setting for the three most important people in her life. "I am showing my kids even though it took me a minute to get to school, you can still do it. I'm pretty good at still being there for them. It's a lot but I make it work."