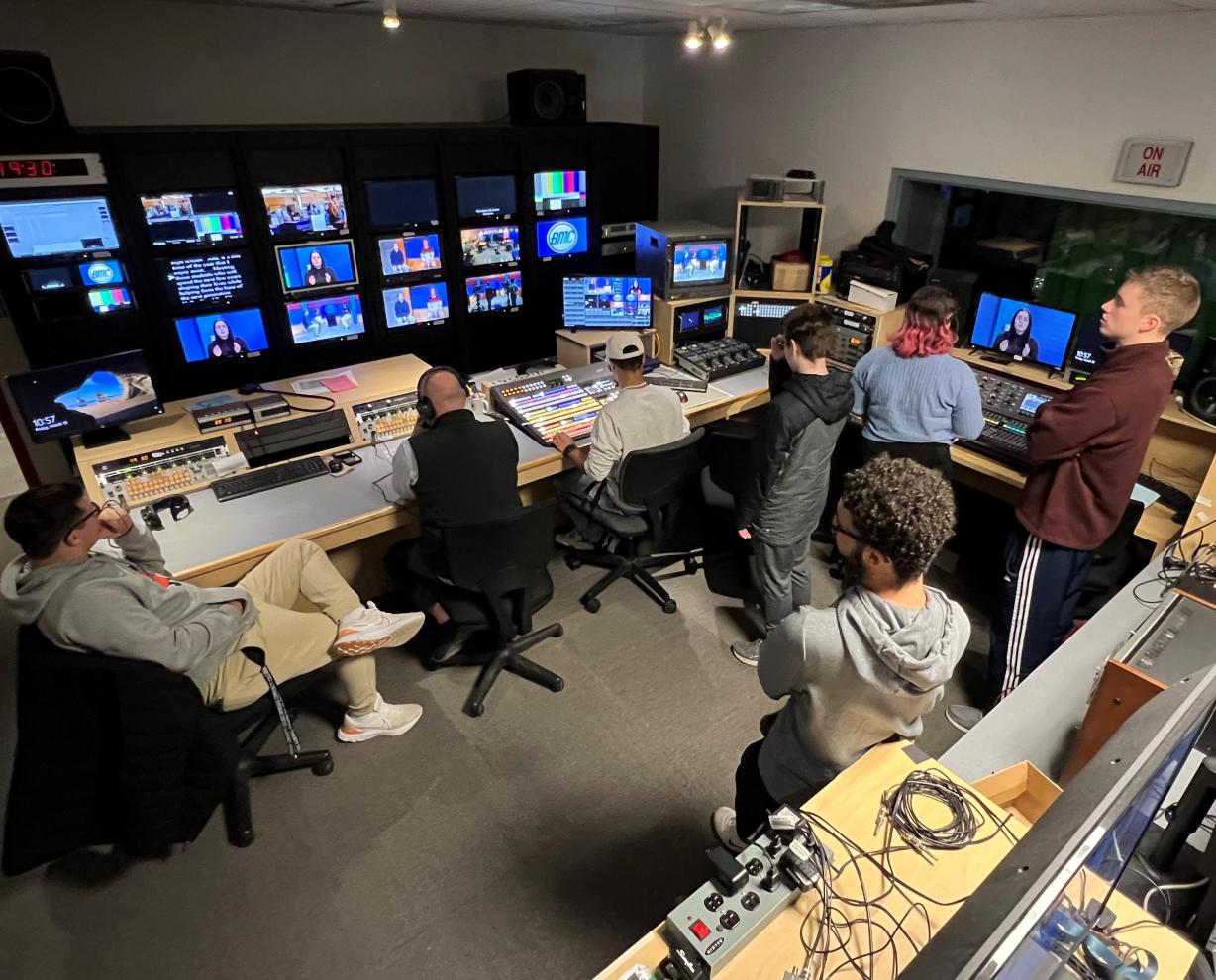 Prospective students interested in earning a Broadcast Media Communications degree at Onondaga Community College had the opportunity to come to campus March 10 and test drive the program.
"I've been looking at a whole bunch of different schools and didn't realize everything that was here. I think it was really cool to see this program," said Danica Zulol of Fayetteville-Manlius High School. "I was planning on attending OCC but now I want to do it even more because of what I saw here today," added Jaden Raymond of East Syracuse Minoa High School.
Zulol, Raymond, and classmates from F-M and ESM spent their morning going through a variety of class-like learning experiences. Sound Recording Professor Shane Patterson worked with students on "how a song is made," Professors Linda Herbert and Rich Jarrett involved students in a Field Production demonstration, and Professors Mark Ballard and Mike Kaminski led students through a TV Studio Production by having students staff a recording in both the studio and the control room. "I thought it was cool seeing the TV studio and how they have a separate control room and how all of the moving parts come together," said Zulol. "It was fun meeting the Field Production team," added Raymond. "I liked seeing all of their equipment and how they set it all up."
"We did a day like this with Liverpool last year and it was a big success," said Professor Mike Kaminski. "We decided to do another Media Day this year with more students. Instead of just doing a tour, students get to take part in hands-on workshops. It really gets them excited about the program and what we're  all about."
After the workshops ended, the excitement continued when students were treated to pizza in the Gordon Student Center. Following that, they toured the OCC campus before heading back to their high schools.
The visit was coordinated by the School of Art, Design, Media & Music. Interested in setting up your own visit? Contact the School by email at artdesignmediaandmusic@sunyocc.edu or by calling (315) 498-7330.