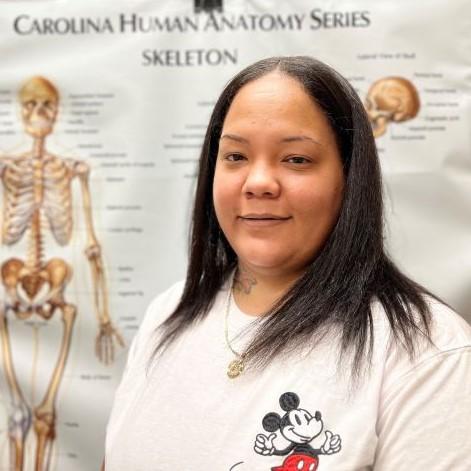 Unfortunate life milestones have inspired Courtney Everson to pursue a career helping others. When her mother was struggling with lung cancer, she would watch her go through the medical imaging process. When her son broke his arm, she observed as he received x-rays. "I liked the idea of seeing the body and helping people without touching them." Those experiences led her to Onondaga Community College and the Health Sciences degree program which prepares students to transfer to SUNY Upstate Medical University and pursue careers in medical imaging, radiation therapy, or respiratory therapy.
The partnership with Upstate provided Everson with valuable learning experiences earlier this year. In February she took part in a field trip there with other OCC students. And during the summer she participated in a 5-week-long "SUNY Upstate Summer Jump Into Healthcare Program." "We went into laboratories and had hands-on experiences, visited the cardiac rehabilitation area, the cancer center, the simulation lab. It was really interesting to see everything there." In July, Everson was highlighted in a television news story by Spectrum News 1.
Everson's journey to becoming a successful student has been a lengthy and rewarding one. She was attending Fowler High School when she became pregnant and dropped out. Everson earned her GED in 2009 and came to OCC for a semester. She tried OCC again in 2011, but both times had too much turmoil in her life to succeed. She worked as a certified nursing assistant for several years before deciding she was ready to try college again.
She returned to OCC in the fall of 2021. She was 31 years old and ready to succeed. "Coming back to school was a big adjustment. Many of the students I am in class with are close to my son's age. It's been interesting building relationships with them." Her son is about to begin his senior year of high school. She also has a daughter who is going into 2nd grade.
Everson has found an amazing level of support across campus. When she was struggling in math, she went to the Learning Center for tutoring. And when a life issue monopolized her time and energy, Professor Barb Wells was there for her. "She really pushed me back on track. She was concerned, checked in constantly, and was really great. She's so personable and cares."
This semester Everson is a member of the Collegiate Science and Technology Entry Program which is more commonly referred to as C-STEP. It provides academic advising, career counseling, financial support, and paid internship opportunities to ethnically underrepresented or economically disadvantaged college students pursing a career in science, technology, math, engineering, or a licensed profession.
She's also hoping to become a Student Ambassador for OCC's the School of Wellness, Health, and Human Services. Based on her life experiences, she has a lot of wisdom she plans to share. "I want to work with students and help them avoid some of the things I went through. I made some bad choices along the way. Now it's easier for me. I want my son to see what can be done."