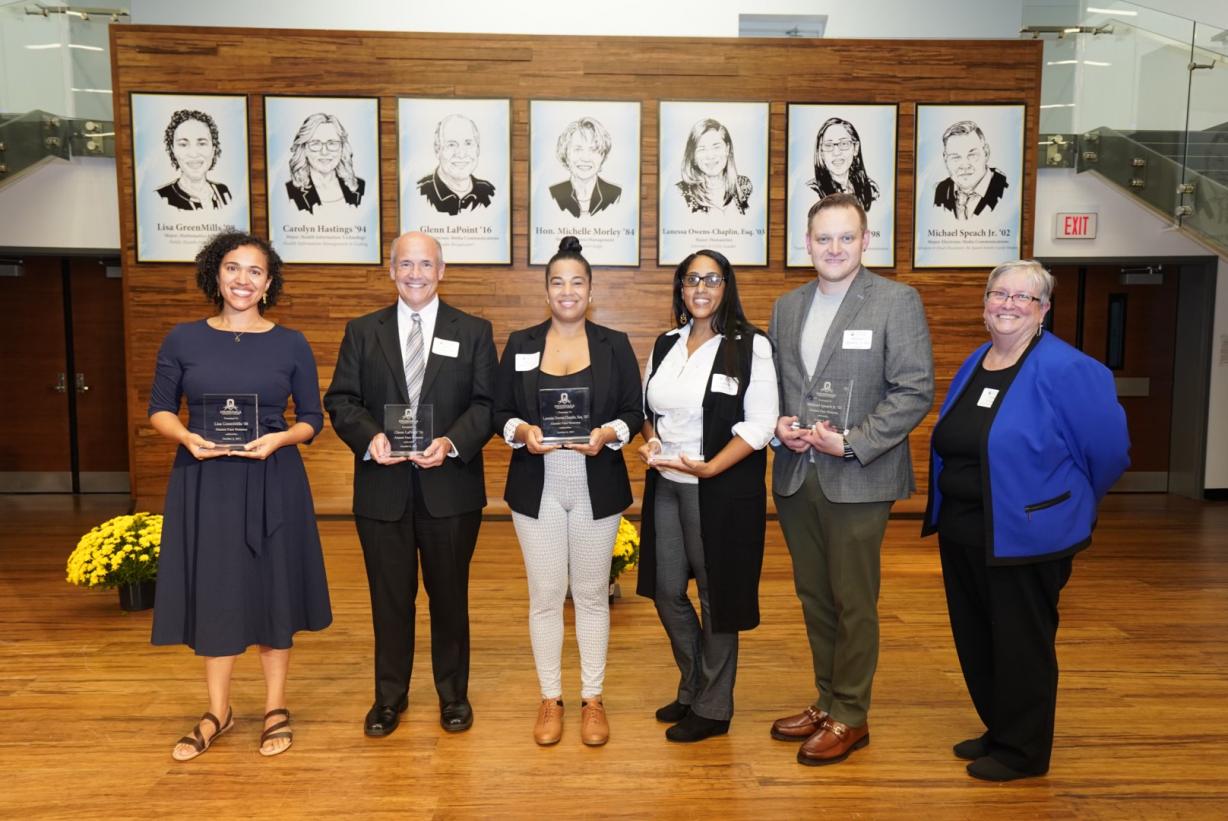 Onondaga Community College recognized seven distinguished graduates as Alumni Faces honoree during an induction ceremony held Wednesday, October 6 in the Frederick Marvin and Ernst Schuh Recital Hall. OCC President Dr. Casey Crabill emceed the event and reminded each honoree of the significance of this honor. "We have more than 50,000 alumni, but only 72 Alumni Faces. Congratulations on everything you have done and the difference each of you have made and will continue to make in our community."
The class of 2021 is: 
High School: East Syracuse Minoa
OCC Degree: Mathematics & Science
Profession: Public Health Professional
Lisa served the Central New York community as Program Coordinator at Syracuse Healthy Start, then as Director of Disease Control for the Onondaga County Health Department through much of the COVID-19 pandemic. Earlier this year she began working at Syracuse University as Director of Operations at the Barnes Center at The Arch. It is the hub for student wellness on the S.U. campus.
High School: Canastota
OCC Degree: Health Information Technology
Profession: Health Information Management and Coding Administrator
Carolyn began taking classes at OCC nearly a decade after graduating high school. Today she is Assistant Vice President for Health Information Management and Coding at Albany Medical Center. She is also President of the New York Health Information Management Association.
High School: Marcellus
OCC Degree: Electronic Media Communications
Profession: Radio Broadcaster
Glenn was one semester away from earning his degree in 1981 when he accepted a full-time job in radio. Thirty-five years later he decided to come back to OCC and finish what he started, completing his degree in 2016. Now celebrating more than 40 years in broadcasting, Glenn is known as "Gomez Adams" on radio station WTKW, TK-99 where he has helped listeners start their day with a smile every morning since 1994. He also continues to have close ties to his alma mater, serving on the OCC Foundation Board of Directors.
High School: Academy of Mount St. Ursula in the Bronx
OCC Degree: Business Management
Profession: Circuit Court Judge
Michelle went right to work after graduating high school. Several years later she realized she needed a college degree and came to OCC. She worked full time while taking classes and earned her degree in less than two years. She continued her education, earning a bachelor's degree and law degree. Today she is a Circuit Court Judge in the Fifth Judicial Court in central Florida.
High School: Henninger
OCC Degree: Humanities
Profession: Attorney and Civic Leader
Lanessa overcame significant life challenges on her way to becoming a force in the community. By age 17 she was living on her own while attending Henninger High School. After receiving her diploma she came to OCC where a Business Law class gave her the confidence to pursue a career in law. She would eventually earn a law degree in Florida, then return to Syracuse with the goal of making a difference in the community. Today she is the lead counsel for the New York Civil Liberties Union  which is working to ensure an equitable outcome by removing the elevated portion of Interstate 81 in  Syracuse. Lanessa lived in the public housing next to Interstate 81 while attending OCC.
High School: Chenango Valley Jr/Sr
OCC degree: Criminal Justice
Profession: Youth Development and Leadership Administrator
Karinda has spent more than two decades in leadership positions with human services-type agencies focused on youth development programs. Presently she is Regional Executive Director at Hillside Work-Scholarship Connection, a nationally-recognized program which helps at-risk youths stay in school and graduate from high school with the skills and confidence necessary to enter college or the workforce. Her husband Leonard and their three sons Dante, Armondo, and Quintin are all Onondaga Community College Alumni.
High School: Liverpool
OCC Degree: Electronic Media Communications
Profession: President and Head Chocolatier, The Speach Family Candy Shoppe
Michael is President and Head Chocolatier of The Speach Family Candy Shoppe in Syracuse which celebrated its 100th year in business in 2020. After graduating from Liverpool High School, his desire for a performance-related education led him to OCC's Electronic Media Communications degree program. He went from OCC to Ithaca College, and then to Broadway where he worked as an apprentice on numerous plays. After a few years there, he returned home and took over the struggling family business. His education, life experiences, and strong work ethic helped him transform Speach's Candy into a nationally-known brand.